SP1500 Laser - Trotec's Largest Laser System
Product Announcement from Trotec Laser, Inc.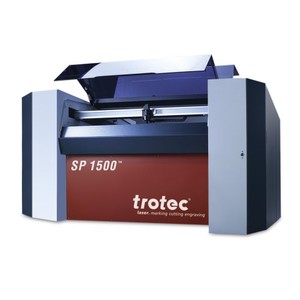 The SP1500 stands for top quality with minimum maintenance. The individual components like motion system, optics, electronics, working head, and laser source feature the highest quality materials. Trotec's proven InPack-Technology™ protects all valuable components from dust and gases ensuring long-term reliability and trouble-free operation.
The SP1500: bigger, better, faster, stronger
- Working area 1500 x 1250 mm (59 x 49")
- Machine dimensions 2829 x 2000 x 1300 mm (112 x 87 x 51")
- Material dimensions 1600 x 1600 mm (67 x 63")
- Speed 165 cm/sec (65"/sec)
- Material height 100 mm (7.3")
- Weight 1200 kg (2866 lb)
- Accuracy +/- 0.1 mm
- Addressable accuracy encoder +/- 0.001 mm
- Static repetitive accuracy <+/- 15
- Trotec IPC - Intelligent Path Control
- Laser power from 60W to 400W "Sealed" CO2 laser
- Closed laser system
- Cutting table system with cross-flow ventilation
- Trotec IPC - Intelligent Path Control™
- Suction included
- Pass-through function
- Closed processing interior with Trotec - "InPack Technology"
- Air-cleansed optics
- Maintenance-free brushless servomotors
- troCAM CAD/CAM software
- JobControl Job Management software
- "i-cut" CCD camera, registration mark recognition, and compensation system
Profitability
Whether plastic processing, wood processing or print finishing, or involving sheet printing or sheet products, profitable materials processing requires a cutting system that can match changing demands.
With it's 400watts of laser power and (59" x 49") 1500 x 1250 mm working area the SP1500 is perfectly geared up for any application from acrylic processing and woodworking to textile or membrane switch cutting. Service free motors, linear bearings and optics included. Designed for more output, higher performance and high demanding production.
The SP1500's concept of a closed laser system with a closed machine interior and high efficient fume extraction gives the SP1500 the base for laser safety and easy integration any production setting without any costly laser safety precautions.
For more information on the SP1500 visit: http://www.troteclaser.com/en-US-US/laser_systems/speedy_flatbed_laser_systems/Pages/Laser_Cutting_system_SP1500.aspx
---