SP500 - Large Format, CO2, Laser Cutting & Marking
Product Announcement from Trotec Laser, Inc.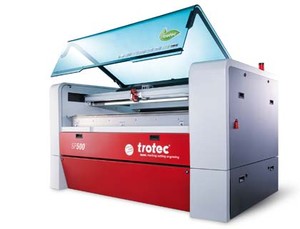 The SP500 is a large format, CO2, cutting, and engraving system for high volume production and large surface materials. The laser has a work area of 49" X 28" and X-Axis clearance of 12". The system is offered in power levels from 60W-200W. There is an available pass-through option (Class 4). Exhaust fumes are captured at the laser head to insure an efficient extraction when using the pass-through feature.
The system is designed for high quality cutting of a wide range of materials and the superior quality engraving that Trotec is known for. The Speedy 500 uses a proven motion system that can achieve a maximum speed of 100 inches per second with acceleration ramps of 2g's.
The SP500 uses the proven protection and performance of Trotec's InPack-TechnologyTM, combining brushless DC servo motors, optical encoders, self-lubricating linear bearings, patented steel reinforced drive belts and protection of the optics and all sensitive components. Trotec systems are designed for minimal wear-and-tear and eliminate the need for periodic replacement of belts and bearings.
Technical Specifications
Mechanics
Work area: 1245 x 710 mm (49 x 28 in)
Maximum work piece size: 1420 x 820 mm (56 x 32 in)
Maximum height of work piece with table: 150mm (6 in)
Maximum height of work piece with removed table: 300mm(12 in)
Maximum engraving speed: 254 cm/sec. (100 in/sec.)
Maximum cutting speed: 10 cm/sec (4 in/sec) dependent on material, file geometry and laser power
Laser Equipment
Laser tube: Sealed off CO2 Laser, maintenance-free
Laser Power 60-200 W
Wavelength: 10,6µm
Dimensions
Width: 1920 mm (75.5 inch)
Depth: 1240 mm (48.8 inch)
Height: 1140 mm (45.0 inch) (780 mm (30.7 inch) without trolley)
Weight: 520 - 580 kgs / 1100 - 1300 lbs (depending on laser power)
Laser Safety
Laser class: CDRH Class 2 (Laser class 4 with pass-through opening), CE tested
For more information on the SP500, go here: http://www.troteclaser.com/en-US-US/Laser-Machines/Large-Size/Pages/Speedy500.aspx
You have successfully added from to your part list.
You need Flash player 8+ and JavaScript enabled to view the SP500 - Large Format, CO2, Laser Cutting & Marking video.
Get the Latest Flash player.
---