Speedy 300 flexx - endless applications
Product Announcement from Trotec Laser, Inc.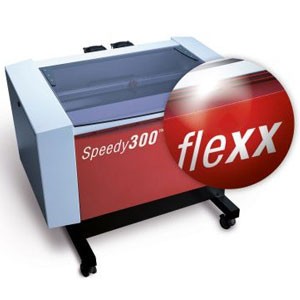 Both a CO2 and fiber laser are integrated into the Speedy 300 flexx. Choose a CO2 Laser with 30,60 or 75 Watt laser power and combine it with a 10, 20, 30 or 50 Watt fiber laser.
Trotec Flexx-Function
Trotec's new Speedy 300 flexx offers both fiber and C02 lasers all in one system. Mixed materials can be processed in one step. It marks and engraves wood, glass, metal, leather, and even cuts acrylic. One laser, two wavelengths...endless possibilities.
Technical Details
Working area (28.5" x 17") 726 x 432 mm
Machine dimensions (44.5" x 35.1" x 41.8") 1130 x 890 x 1060 mm
Material size (29.5" x 17.3") 750 x 440 mm
Laser power 10, 20, 30, 50W Fiber laser and 30, 60W CO2 laser
Speed up to 355 cm/sec (139 inch/sec)
For more information visit: http://www.troteclaser.com/en-US-US/Laser-Machines/Mid-Size/Pages/Speedy300flexx.aspx
---