Trotec & i-Cut -Perfect Finish of Print Material
Product Announcement from Trotec Laser, Inc.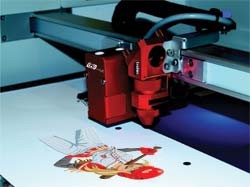 i-Cut®, the optical registration mark recognition system, can be used on the Trotec Speedy 300, Speedy 500 and SP1500.
Laser cutting: easy and precise
Printed signs, displays or POS materials can be cut on an individual basis using laser technology and i-Cut®. How the i-Cut® works:
Registration marks are printed along the image.
The camera registers the dimensions of the printed design by "reading" the registration marks prior to the cutting process.
The cutting path is adjusted automatically and dynamically, no matter whether it is a linear or non-linear, distortion or a rotation.
The cutting lines always match the printed design on both flexible and rigid materials. Operators get perfect cutting results when processing printed materials such as acrylic, MDF, polyester, cardboard, paper and many more.
Trotec has built upon years of experience using the i-Cut® on large platform systems. We applied this knowledge to become the first laser manufacturer offering the i-Cut® with a micro camera on a mid-sized laser system.
---