Simplify your RFID Solution with Bl20 Modular I/O
Product Announcement from TURCK Inc.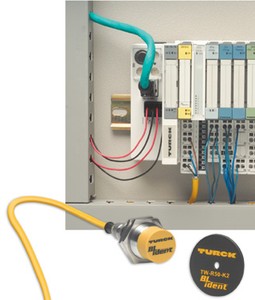 Each RFID-S slice contains two channels of RFID. Additional RFID slices, as well as traditional discrete and analog I/O slices, may be added to the system, making it the only product on the market that allows this combination on the same node on the network.

This flexible design facilitates the integration of RFID into both new and existing systems. The RFID-S slice does not require special software for integration into a PLC system, further simplifying the entire process. "If you can program a push button to turn on a pilot light," says Nick Clute, product specialist with TURCK, "you can program TURCK's RFID system."

The RFID-S slice is compatible with TURCK's IP 20 rated BL20 non-programmable and programmable gateways, available for use on PROFIBUS®-DP, PROFINET, DeviceNet™, Modbus TCP/IP and EtherNet/IP™ networks. All RFID channels operate in parallel, so there is no time delay during communication between the tag and the read/write head-optimizing production speeds. The TURCK RFID-S slice is designed with digitized communication, allowing up to a 50-meter separation between the transceiver and slice without noise induction to ensure clear, unobstructed application results.

TURCK is an industry leader providing superior quality sensing, connectivity and network products to help manufacturers improve their automated processes. For other TURCK product or technical information, contact: 1-800-544-7769 • www.turck.us • turckusa@turck.com
You have successfully added from to your part list.
---