Fast Water Leak Detection for Data Centres
Product Announcement from Pentair Thermal Management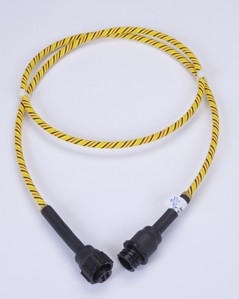 TraceTek water leak detection systems provide fast and accurate leak detection and location with the advantage of an early alert at the first sign of a leak, enabling action to be taken before critical equipment is damaged.
Server facilities are the nerve centres for most modern businesses. Thousands of optical and electrical connections are concentrated in a densely packed space. Racked equipment generates a large amount of heat and in order to prevent equipment failures, the heat must be extracted. Heat extraction is the role of the HVAC equipment and chilled water pumped into and out of the facility is the primary heat extraction medium. However water and electronics don't mix.
Water accumulating on the floor or dripping from overhead piping can and does interrupt server operations. Early detection of any water leakage can get maintenance on scene in time to deal with the threat. Raised floor facilities are even more vulnerable because leakage is concealed. A water leak in a visible area might be noticed by employees but if the leak occurs beneath raised floors, the first alarm may occur when a critical system shuts down or water begins to rise through the structural floor to lower levels in the building.
At the heart of the system is TraceTek TT1000 water sensing cable which will detect the presence of water at any point along its length. The cable is designed to work on flat surfaces and is installed directly on the concrete slab beneath all data and power cabling. Any water leaking from HVAC units, chilled water fittings or back-up drains is detected immediately with location accuracy sufficient to pick the right floor tile. For racked equipment, TraceTek has developed TT1100-OHP that can be fitted to the underside of overhead pipe or used in drip trays. The same degree of detection sensitivity and leak location is delivered in a form better suited to modern server room.
TT1000 is linked to TraceTek Sensor Interface Modules (TTSIM-2) each of which can monitor up to 500 feet (150 m) of sensing cable and, when water is detected, provide an alarm and leak location display. TTSIM can be used as a stand-alone alarm and locating module or be networked with other TraceTek modules connecting directly to a Building Management or Distributed Control System.
---