Flammable Hazmat Storage Buildings
Product Announcement from U.S. Chemical Storage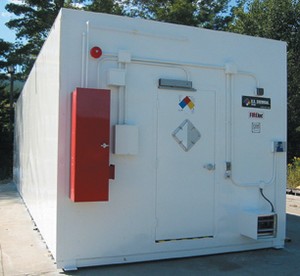 Flammable hazmat storage buildings provide 100% compliance and complete safety for storing flammable or combustible hazardous materials. Customize your flammable hazmat storage building to your specific requirements with our wide variety of customizable accessories including cooling systems, mechanical ventilation, explosion relief panels, heating systems, alarms, gas sensors and more.
US Chemical Storage's flammable hazmat stoarge buildings are designed by professional engineers and constructed by experienced, certified welders to meet EPA, OSHA and NFPA regulations. Every hazmat storage building is tested before it leaves the factory for quality assurance.
Utilizing explosion relief panels in fire rated and non-fire rated buildings allows for extra protection against hazardous situations when storing highly combustible materials. Any operation that includes handling, storing or the processes of mixing/dispensing of flammable liquids, solids or gases carries the risk of an ignition. As a general rule, a build up of vapors from Class 1A and 1B flammables brings the risk of an explosion. Relief panels are designed to vent an explosive force should an accident occur that causes a high internal pressure within the storage structure. The panels, with FM Approved release fasteners, meet ASTM-D35, ASTM-E84, ASTM-E-283 & FM Approval Standard Class Number 6049.
View all of our explosion proof accessories that are custom fitted to our hazmat storage buildings online.
---