Product Announcement from U.S. Chemical Storage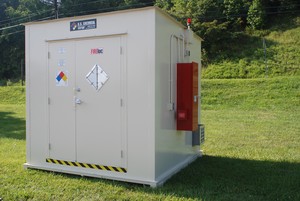 FIREloc™ is the strongest 2-hour fire-rated hazmat building available today. FIREloc™ is manufactured from heavy gauge steel, has a built-in secondary containment sump for spill containment, and provides a base that has unmatched strength. These 2-hour fire rated buildings are designed for storing flammables, combustibles, and other chemicals that require a fire rating when located 10' - 30' from an occupied facility or property line (check with local authorities about any variance allowances).
The FIREloc™ protects your products from harmful conditions and theft, while achieving compliance with all applicable codes and requirements. This 2-hour fire rated unit can be manufactured to meet a bi-directional wall construction, as well as a unidirectional wall construction for storing your products. You can modify your FIREloc™ chemical storage building to include any of these optional accessories and customize your storage solution. Explosion relief construction can even be included to allow for storage of Class 1A flammables and/or mixing of Class 1B flammables.
Turn to FIREloc™ for storing flammables in a safe environment for your business and employees that will last for years to come. Their reputation and strength in design demonstrates their commitment to quality construction and customized manufacturing techniques for you and your company. Call them today to see how a U.S. Chemical Storage building can help you become compliant, while assisting in your storage and production.
You have successfully added from to your part list.
---