Tygon® S3™ E-3603 Laboratory Tubing
Product Announcement from U.S. Plastic Corporation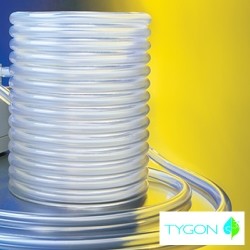 Taking a proactive approach to increased corporate social responsibility, Saint-Gobain has developed Tygon® S3 E-3603 using entirely bio-based plasticizers. Crystal clear and flexible, long-lasting and crack-resistant, the new Tygon® S3™ E-3603 non-DEHP tubing delivers the same superior performance you have come to expect, but now in a formulation that contains a non-DEHP plasticizer. Replacing DEHP with a bio-based, non-phthalate plasticizer delivers the benefits of increased sustainability and safety for the environment and users.
Tygon® E-3603 Tubing handles most inorganic chemicals found in the laboratory. It is non-oxidizing and non-contaminating, and less permeable than rubber tubing. The glassy-smooth inner bore helps prevent buildup to facilitate cleaning, and coils are marked at 1-foot (30.4 cm) intervals for easy measuring. Tygon® S3™ E-3603 Tubing is specially formulated for resistance to flex-fatigue and abrasion. In many peristaltic pump applications it will outlast the competitor and the original R-3603 by 3 to 1. As tubing for instrumentation connection, vent, drain and other general laboratory applications, S3™ E-3603 Tubing offers superior life, which minimizes the labor and expense of replacement. It can be sterilized through conventional autoclave methods (steam 30 minutes at 15 psi, 121°C) and Ethylene Oxide.
Tygon® S3™ E-3603 complies with FDA, NSF, 3-A, meets USP Class VI, REACH 1935/2004/EC and 10/2011/EU for many foods and beverages. It does not contain chemical listed in California's Prop 65, BPA or phthalates. Priced per foot; sold in 10 foot intervals only.

You have successfully added from to your part list.
---