Outdoor Warning Systems
Product Announcement from UTC Fire & Security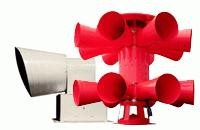 From air to steam to electric power, Edwards air horns, steam whistles, and disaster alert signals are among the most powerful and distinctive signals in the industry.

Edwards Outdoor signals are ideal for use in mines, refineries, chemical plants and other indoor or outdoor hazardous locations where a differentiated, easily heard tone is required.
About UTC Fire & Security:
Automation signaling works best when you partner with an experienced source, one with a track record of product innovation and technical leadership.

Edwards signals come with innovative features that meet all your signaling applications needs. From simple horns and bells to demanding factory automation signaling utilizing your PLC or Devicenet network, Edwards provides complete factory solutions. Find out what makes signaling sense to you!
Please click on the links to the right for more information or request a quote today!
---