Product Announcement from Ultra Electronics, manufacturer of Weed Instrument products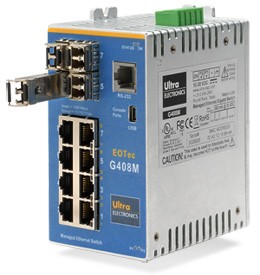 EOTec G408M Industrial Gigabit Ethernet Switch from Ultra Electronics.
The EOTec G408M is a fully managed 8-port Industrial Gigabit Ethernet Switch.
The unit features advanced capabilities typically found in a managed switch plus a Self-Healing Ring function, which is compatible with Ultra's EOTec 2104 Industrial Ethernet Ring Switch (10/100 Mbps).
Key Features
Eight 10/100/1000Mbps copper ports, four can be 100/1000Mbps Single and/or Multimode fiber ports
Fault-tolerant Self-Healing Ring (SHR) with 30 mS plus 5 mS per hop recovery time
Operating Temperature -40 to 75°C
Long-haul fiber distances up to 80 km (49 miles)
10 to 30VDC operation, 15W
Dual power inputs
DIN rail mountable
Deterministic Performance -The EOTec G408M utilizes a special algorithm to insure very fast recovery times.
The recovery time can be estimated by multiplying 5 ms times the number of switches, and then adding 30 ms (for loss of link errors) or 60 ms (for message loss errors). For example, a ring of 10 switches would have a recovery time of 80 ms for typical loss of link-type errors. A ring of 8 switches would have a recovery time of 100mS for message loss errors.
Flexible Topologies
The EOTec G408M accepts both Single and Multimode 1Gbps and 100Mbps SFP Transceivers, making it compatible with the EOTec 2104 Industrial Ring Switch. Both switches offer the same fast recovery time and are configurable for all network topologies.
You have successfully added from to your part list.

Play EOTec Industrial Gigabit Ethernet Switch Video
---