Resistance Temperature Detectors (RTD) Elements
Product Announcement from Ultra Electronics, manufacturer of Weed Instrument products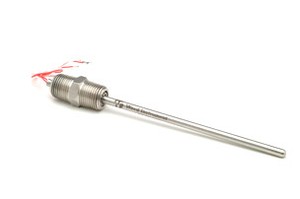 Resistance Temperature Detectors are sensors that measure temperature by correlating the resistance of the RTD element with temperature. Most RTD elements consist of a length of fine coiled wire wrapped around a ceramic or glass core. The element is typically relatively fragile, so it is generally installed inside a sheath to protect it. The RTD element is constructed from a pure material, the resistance of which, at various temperatures, has been documented by various international standards institutes. The material has a predictable change in resistance as the temperature varies; it is this change that is used to determine temperature. RTDs are generally considered to be among the most accurate temperature sensors available.In addition to providing very good accuracy, they feature excellent stability and repeatability. RTDs also provide high immunity to electrical noise and are, therefore, well suited for applications in process and industrial automation environments, especially around motors, generators and other high voltage equipment.
Ultra Electronics, NSPI RTDs
Ultra Electronics, NSPI manufactures an almost infinite variety of RTD sensors and assemblies, and most can be supplied in 48 hours or less. Options include combinations of different element materials, values and accuracies, a choice of element leadwire configurations, and a selection of sheath materials and diameters. Many of their RTD assemblies are supplied in drilled or flanged wells, and all assemblies can be supplied with their economical, head mount or DIN-rail mounted transmitters. If you can't find a catalog RTD for your application, just contact them - custom versions can often be fabricated in less than a week!
Typical RTD Applications
Furnaces
Microelectronics
Medical research
Textile production
Plastics processing
HVAC and refrigeration
Foodservice processing
Petrochemical processing
You have successfully added from to your part list.
---