Product Announcement from Ultra Electronics Precision Air & Land Systems (PALS)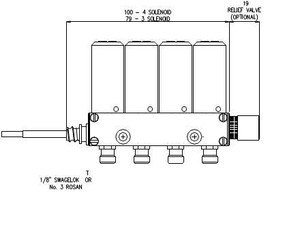 Multi-Solenoid valve pack. Featuring a single inlet and multiple outlets.
Product Description:
A range of manifolded multi-solenoid, electrically actuated valves for use with High Pressure dry pneumatic 'Cold' gas actuation / stores ejection systems, providing multiple outlets from a single inlet connection. Can be supplied with 3, 4, 5 and 6 solenoid valves.
Features:
Lightweight design with ratings to 414 bar (6000 psig) and 47-49 Vdc operation. Valves are normally closed, energised open.
Multiple valves are integrated into a manifold to minimise mass. Design also minimises the number of elastomeric seals and electrical cables required.
Factory cleaned, non-contaminating, and suitable for use with Argon, Nitrogen and 'Pure Air' to DEF STAN 58/96.
Operating temperature minus 55 to plus 1500C.
High Flow low power, up to 150 Litres per minute per valve, with typically less than 6-Watts power consumption and less than 10ms switching time.
Available with optional integral over pressure relief valve
Weight of 4 pack version approximately 590g
Pure Air Cleaned & Compatibility tested to DEF-STAN 58-96
About Ultra Electronics Precision Air Systems:
Ultra Electronics Precision Air Systems, a division of the Ultra Electronics group of businesses, is the leading manufacturer of compact on-board gas solutions, including compact gas compressors called HiPPAGTM for the defense industry worldwide. Applications include cryogenic cooling systems, stores ejection and release systems, and pneumatic systems.
Please click on the links to the right for more information or request a quote today!
You have successfully added from to your part list.
---