0-1500V Power Supplies at 1.00in3
Product Announcement from UltraVolt, Inc.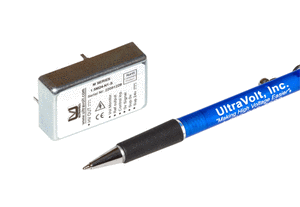 The miniature, microsize M Series is the ideal solution for applications that need a biasing voltage ranging from 0 to 1500V and very small volume, at only 1.00in3 (16.4cc). At less than 0.5in (12.7mm) in height, these modules are ideal for low profile applications.

Typical applications for the M Series include bias supplies, electrostatic chuck (E-chuck), avalanche photo diodes (APD), and photomultiplier tubes (PMT).

· 4 models from 0 to 600V, 1000V, 1250V, or 1500V
· 1 watt of output power
· Tight line/load regulation
· Arc and continuous short circuit protection
· Self restoring output voltage
· 12, 15 or 24 Volts DC Input
· Low cost
· Miniature and lightweight
· 5V reference
· Voltage monitoring
· Low ripple (0.01% peak to peak)
· Optional flying lead for HV output
---