Easier Hardness Testing with Clamp Device
Product Announcement from United Testing Systems, Inc.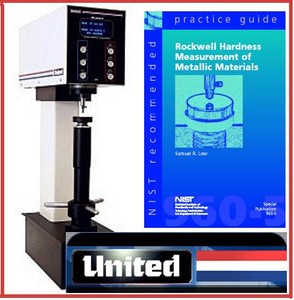 United Testing Systems is no stranger to hardness testing. Since 1984, the company has manufactured computer-controlled closed-loop Rockwell testers and their second generation Rockwell tester, the Tru-Blue II closed loop tester. The tester comes standard with a direct certification of the hardware calibration with NIST traceability and a one-year indirect calibration for customer-specified hardness scales. It can be used without an initial on-site calibration, and it can be moved to a new location without having to be re-calibrated. When mounted on an optional mobile stand, the Tru-Blue II becomes portable for use in different departments.
SCROLL DOWN TO SEE THE VIDEO DEMO
"Basically, we try to do an all-in-one testing," says Product Manager Phil Eusebi, who has been with the company for 23 years.

The Tru-Blue is not the only hardness testing product United offers, however. Along with the Tru-Blue, United has a line of hardness testing accessories, including Rockwell, Brinell and micro hardness test blocks; Rockwell diamond indenters, scales A, C and N; heavy load Vickers and micro hardness diamond indenters; carbide ball indenters; anvils and support devices; along with 2-inch roll mini serial and parallel printers, stationary and mobile stands.

While there have been minor changes in hardware and software, the product has stayed the same for the most part. "That's why we can keep the price down," Eusebi says.

However, the latest revision of the standard may cause changes for some.. "The latest revision made it easier for companies to certify their equipment or have equipment certified," Eusebi says." However it did make it tougher for companies with "dinosaur machines," those around 40 or 50 years old. Because the government uses new closed-loop load cell machines in setting the standard, it may be more difficult to get older machinery certified"

Using old dial machines may work for small jobs not concerned with aerospace equipment, but the machines eventually may be difficult to use. "They get old," Eusebi says. "It's like an old watch, sometimes when it's supposed to move, it doesn't." Not only that, but old machines are more often subjected to operator influence. But with closed-loop, motorized computer-controlled machines, a computer controls how long loads are applied.

Taking away operator influence is a big advantage for many companies. "Our nose clamp is probably one of those things that sells a lot of machines," Eusebi says. Machines are so accurate that results can be skewed if an operator has his hand on the part. The clamp is there to hold the oversize or oddly shaped parts. Thus, the machine is hands-free and the operator has to push the test button.

The company's products are used for brake pad manufacturers, heat treating, tubes, pipes and test labs, "wherever they need to test materials," Eusebi says. Besides these, he says they also have received some unusual requests, such as an armor piercing material.
Learn more by visiting our website via the links on the left, or e mail us. We welcome your inquiries
You have successfully added from to your part list.
---