Force Calibration Services
Service Detail from United Testing Systems, Inc.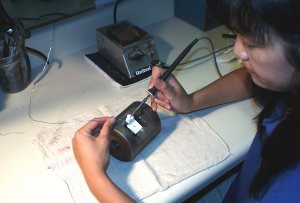 Force Laboratory - United provides calibration up to 500,000lbs in accordance with the requirements of ASTM E-74 and from 0 to 1,000,000 E-4 with NVLAP accreditation (Lab code: 200521-0).
Force Calibration - United's automated dead weight tester provides calibration to 5,000lbs force in 5-pound steps with accuracy of one part in 250,000 or Class C weights.
Load Cells (high accuracy) - United load cells provide force calibration (in house) to 500,000 pounds with accuracy of 0.05% and to 1,000,000 pounds (on-site) with an accuracy of 0.25%
Proving Rings - United proving rings provide force calibration to 400,000 pounds. Accuracy: 0.02% to 60,000 pounds, 0.05% to 400,000 pounds.
Dependable Service - United prides themselves on having one of the best force labs in the United States. Their temperature-controlled laboratory has qualified personnel and sufficient equipment to provide high-quality service and fast turnaround. If your load cell requires a special mounting adapter for laboratory calibration, they probably already have it. If not, their 20,000 square foot machine shop can make any adapter that is required.
Economical - Are you paying too much for laboratory calibration? Contact United for a quotation. It is not unusual for customers to save as much as 40% from their current costs by selecting accredited calibration services from United.
You have successfully added from to your part list.
---