Product Announcement from VAT, Inc.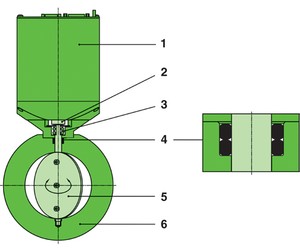 Area of application:
Semiconductors, FPD and industrial processes, particularly CVD systems.
Description:
Butterfly pressure control valves for downstream applications. Very fast and strong actuator. Powerful integrated controller. Automatic maintenance indication.
Specifications
Nominal inside diameters (ID): 40 (1 1/2") - 200 (8" )
Body material: Aluminum; Stainless steel
Actuator types: Stepper motor, integrated controller
Feedthrough: Rotary feedthrough, (Viton)
Cycles until first service: 2 million cycles under clean conditions
Leak rate: Body: < 1 . 10-9 mbar ls-1; Valve seat: -
Features
Very fast and accurate pressure control
Automatic learning of system parameters
Hold function for plasma ignition
Valve position control
Remote Control
Information display
Inputs for 1 or 2 linear pressure sensors (capacitance manometers)
Closing or opening of the valve at power failure (option)
Pressure control
The controller ensures very fast and accurate pressure control. By operating the LEARN function - needs to be done only once at start-up - the system parameters are automatically determined. Due to the adaptive algorithm the controller continuously adapts to the process conditions (species of gas, gas flow) and thus ensures optimum pressure control.
Position control
In position control mode the valve plate can be moved to any position.
Display
Status and position are displayed by means of 4 bright digits.
Remote operation
The valve can be controlled by a host computer via RS232, Logic or DeviceNet® interface. The RS232 interface also has digital inputs to close and open the valve.
Control via Logic interface also has digital inputs to close and open the valve.
Service Port
The valve has a service port (RS232) for connecting a computer. VAT can provide the following two versions of software: Basic version 'VAT Control View', available as freeware (see www.vatvalve.com. Independent of the host computer, it enables setup, operation, monotoring and diagnosis.
Extended version ' VAT Control Performance Analyzer': Available on order. This sophisticated tool offers a much wider range of possibilities than th basic version. For instance, it is possible to graphically display the pressure behavior or to program and record sequences. Also several possibilities for data analysis and process optimization are available.
For connecting the valve both versions require a special cable from VAT.
Power Failure Option (PFO)
This function is available as an option. It closes (to the minimum conductance) or opens the valve automatically at power failure.
Sensor Power Supply (SPS)
Optionally, the valve can be provided with a ±15 V DC power supply unit for the sensor(s).
You have successfully added from to your part list.
---