Current Loop & Voltage Data Loggers Spectrum 4000
Product Announcement from Vaisala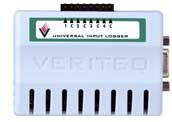 Self-powered 12-bit data loggers provide high-accuracy recording of 4-20 mA current loop or d.c. voltage signals
Single and multi-channel data logger models offer up to four input channels
Easy to scale recorded data into user-defined measurement units
Adjustable logging intervals with 10-year data recording capacity
Current loop XPS excitation control switch for efficient powering of external transducers
Spectrum SP-4000 Precision Current Loop and Voltage Data Loggers are convenient and versatile recorders for reliable logging of a wide range of measurement variables.
A compact alternative to chart recorders...
Palm-sized and self-powered, 4000 Series data loggers record signals from industry-standard transducers, transmitters and sensors to help you quickly and flexibly acquire your important information. Available in single and multi-channel versions for logging dc voltage or 4-20 ma current loop signals, each model is based on the proven Spectrum 12-bit logger platform that provides superb resolution and accuracy over even the widest measurement ranges.
Easy to set up and use
4000 Series data loggers are simple to configure and deploy. Just connect two wires from your transducer, transmitter or sensing device to your logger's input channel using the screw-type terminal block. Then fill out a simple form in our software to describe the scaling and measurement units you want. Save the form and all setup and scaling information is stored securely in the logger. No programming or complex equations are required and, once set up, the loggers automatically convert recorded results into familiar engineering units for display, analysis and presentation.
Wide range of data logging applications
Veriteq Spectrum Software makes it easy to work with your 4000 Series data logger. With just a few keystrokes, you can create outstanding graphic and tabular representations of your data, overlay graphs from different loggers, display data in real-time and export files to your favorite programs. You can also use Veriteq viewLinc for real-time monitoring and alarming to notify you of out-of-range conditions.
For more advanced applications, the Spectrum Application Program Interface (API) makes it easy to write custom software to communicate with your data loggers. This allows you to merge the Spectrum recording system into your existing operations, procedures and programs.
4000 Series data loggers can also be used with the Spectrum Excel add-in, a free utility program designed to work directly within Microsoft Excel, and Veriteq sGo, a program designed for use with Palm OS handheld devices.
4000 Series recorders are ideal for interfacing to any equipment supplied with dc voltage or 4-20 ma current loop outputs. This includes a wide range of transducers, transmitters and sensors for monitoring pressure, flow, fluid level, PH, electrical properties, moisture, gas concentrations and much more. They are perfect for researchers, plant operators, test & measurement engineers and quality control personnel.
You have successfully added from to your part list.
---