Product Announcement from Vaisala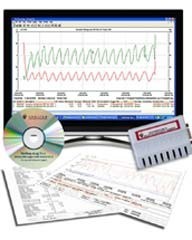 The Vaisala Veriteq Validation/Mapping system comprises Vaisala Veriteq data loggers and vLog software. vLog is a secure, easy-to-use Windows-based interface for configuring, downloading, displaying, analyzing and reporting information from loggers. Software and user guides are available in multiple languages. Learn more...
vLog System Features:
Quick Visual of Results
Horizontal bars move automatically with min, max, and avg values. And, you can superimpose up to 4 indicators wherever you want-set the value, units (temp or RH), label, and color for each indicator.


Detailed, Customizable Graphs
Add statistics such as min, max, and avg values, max minus min value, max minus avg value, avg minus min value, group statistics. And use more explanation in the sign-off area with up to 6 lines of text to describe the run.


Industry-standard Security Control
vLog uses all the capabilities of Windows password authentication - domain level or local account authentication. Your IT staff can implement what they already use to protect other company assets.


File Security Status Indication
The security status of the data is identified on every report. You know whether files are secure or not, or if files have security problems or tampering issues. Users always know if documentation is 21 CFR Part 11 compliant or not.


System-wide Traceability
vLog provides a validated audit trail. A built-in audit trail report generator creates reports-for all logger data or for a time you specify. No interaction with the system goes unrecorded.


Time Saving Batch Setup
Use the settings from one logger in additional data loggers-start and stop time, sample interval, logger and channel descriptions, and channel flags.
View vLog Brochure (PDF).
Detailed Graphical & Tabular Reports
Graph overlay to highlight relationships between files
Zoom or cursor pin-point of actual values, times and dates
Multiple graph windows for comparative studies
Horizontal lines dynamically track min, max, avg
User-added horizontal lines for min, max, avg
Min, max and avg values and times for a group of inputs
Statistical studies, including lethality
Tabular format with dates, times and logged values
Graph scrolling to examine trends in detail
Automatic Mean Kinetic Temperature calculation
Data Security & Integrity
Up to 3 levels of security-Windows user names and unique passwords (Windows Active Directory)
Protects encrypted data logger files with indication of tampering
Recognizes and documents any modifications or altered files and renders them unusable
Ensures file security with user verification indicators
Flexible Graph Scaling
vLog provides format flexibility to customize graphs:
Manual and automatically scaled graphs
Multiple Y-axes scaling and ranges
Selectable decimal place precision
Options to display of temperature in °C or °F
User-adjustable International date and time formats
Easy Data Transfer
Copy and paste graphs into other Windows applications
Create TXT and CSV files for use with Excel or database applications
Fast & Reliable Communications
Quick and convenient downloading of data
Automatic file creation and descriptive naming
Automatic synchronization of data logger clock to PC clock
Easy Configuration
Fast setup of multiple loggers using the same properties
Adjustable sample rates
Sync start/stop times for multiple loggers
Collect only the data you want
Enable and disable data logger channels
Scale recorded data into user-defined measurement units
Set multiple data logger memory modes (e.g., stop when full, wrap-around when full)
Presentation-quality Reports
Comprehensive graph and report printouts with review and approved sign-off sections
Preview reports before printing
Prints to any Windows-compatible printer
Operating System
vLog is compatible with Microsoft Windows 2000, XP, Server 2003, and Vista 32-bit systems.

For more information, please contact us, email or call 800-683-8374.
You have successfully added from to your part list.
---