Air Dryers for Manufacturing & Process Industry
Product Announcement from Van Air Systems, Inc.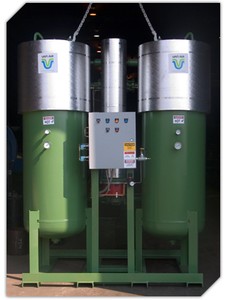 Heated Purge Desiccant Dryers
Van Air HP series externally heated regenerative compressed air dryers provide a low -40°F dew point for superior air line moisture protection, while offering the efficiency of convection-heated desiccant regeneration. These are ideal for general manufacturing and process industry applications.
All Van Air HP series dryers feature: an isolated external heater for an extra measure of safety; Interlock Logic valve sequencing, for the most reliable tower cycling; and heatless back-up mode, for uninterrupted service while the heater is being serviced.
Principle of operation: Wet compressed air enters the inlet valve and is dried as it flows through a bed of adsorbent desiccant. Dry air exits the outlet valve of the dryer. A small portion (8%) of the outlet air is redirected through the external heater and downward through the off-stream tower to regenerate the desiccant. Wet air is exhausted through the purge valve. The eight-hour NEMA cycle includes four hours of drying, three hours of heating and one hour of cooling per tower.
ABOUT US
Van Air Systems is a global leader in the design and manufacturing of products for the treatment of compressed air and gas. Since the company's founding in 1944, the employees of Van Air Systems have proudly built a reputation for innovation, quality, and superior customer service. Van Air Systems offers both standard and custom-engineered products, including single tower deliquescent dryers, regenerative compressed air dryers, natural gas & biogas dryers, adsorbent & deliquescent desiccants, particulate & coalescing filters, automatic condensate drains, and after-coolers.
---