Single Tower Freedom Dryer for Mobile Blasting
Product Announcement from Van Air Systems, Inc.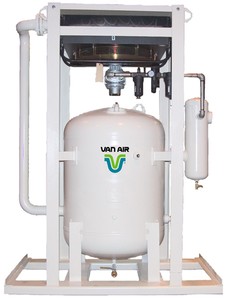 To remove and recover hazardous lead waste, a Van Air portable air drying system consisting of an air-cooled after-cooler, a Freedom Dryer model D48, and particulate and coalescing filters was designed. Also included in each equipment package were dust collectors and four-steel grit blasting machines with storage and transfer capability for grit recovery, separation of waste and recycling of the grit.
The Van Air Blast Pak is also an ideal solution for mobile blasting contractors. Wet compressed air clogs blasting pots and compromises the quality of the blasted substrate by putting moisture back on the surface. This moisture then flashes to rust, necessitating costly re-work. With the Blast Pak contractors are left with cool, clean and dry compressed air for superior blasting quality and zero downtime.
The Blast Pak is a single tower deliquescent drying package with conveniently integrated peripherals that are pre-assembled and welded to a forklift skid, allowing maximum portability for mobile drying applications. These systems can be easily lifted on the back of a truck or trailer and moved about within a plant or worksite.

Play Single Tower Freedom Dryer for Mobile Blasting Video
---