Compressed Air Dryers Protect Pneumatic Equipment
Product Announcement from Van Air Systems, Inc.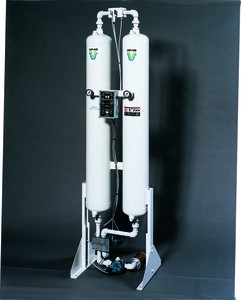 Van Air HLS Series Heatless Regenerative Desiccant Compressed Air Dryers are designed to protect pneumatic equipment and process the harmful and costly effects of compressed air moisture in mid-flow applications.
HLS Series Dryers provide: a low -40° or -100°F pressure dew point between 55 and 150 SCFM. All HLS series dryers come standard with a cycle hold feature, which preserves system pressure, conserves purge air and saves energy by automatically closing the purge exhaust valve when the compressor unloads or is on standby. The dryer then returns to cycling when the compressor flow resumes. The HLS series dryers are dependable, low maintenance and easy to monitor.
ABOUT US
Van Air Systems is a global leader in the design and manufacturing of products for the treatment of compressed air and gas. Since the company's founding in 1944, the employees of Van Air Systems have proudly built a reputation for innovation, quality, and superior customer service. Van Air Systems offers both standard and custom-engineered products, including single tower deliquescent dryers, regenerative compressed air dryers, natural gas & biogas dryers, adsorbent & deliquescent desiccants, particulate & coalescing filters, automatic condensate drains, and after-coolers.
---