Filters for Instrument Air & Gas Applications
Product Announcement from Van Air Systems, Inc.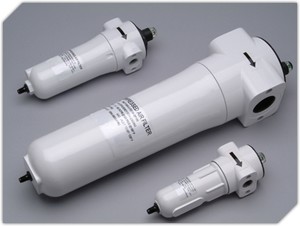 Van Air F200 Filters series coalescing and particulate filters remove contaminants from compressed air and gas systems. Applications such as pneumatcic hand tools, abrasive blasting, dust collectors & Blow molding would be beneficial with the use of F200 filters.
F200 filters feature: A variety of connection sizes from ¼" to 3"NPT and flow capacities from 15 to 1200 scfm at 100 psig in 14 housings and 9 filtration grades. All F200 housings are made of cast aluminum and coated with an epoxy powder coating for corrosion resistance.
Principle of operation: F200 filters remove oil aerosols, oil vapors, condensed water and particulates. Each filter includes a push-on element with a durable polyester drain layer and a standard pop-up indicator signals when an element needs replacing. The long lasting elements reduce maintenance costs.
ABOUT US
Van Air Systems is a global leader in the design and manufacturing of products for the treatment of compressed air and gas. Since the company's founding in 1944, the employees of Van Air Systems have proudly built a reputation for innovation, quality, and superior customer service. Van Air Systems offers both standard and custom-engineered products, including single tower deliquescent dryers, regenerative compressed air dryers, natural gas & biogas dryers, adsorbent & deliquescent desiccants, particulate & coalescing filters, automatic condensate drains, and after-coolers.
To download brochures, manuals & drawings, please click:
http://www.vanairsystems.com/products_filter_Particulate_F200Series.html
---