Portable Air Dryers for the Rental Industry
Product Announcement from Van Air Systems, Inc.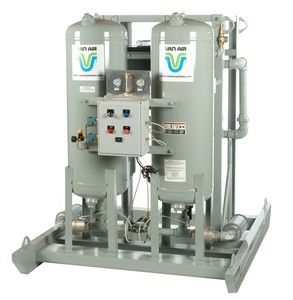 When mobility and portability are essential, turn to the Van Air Prep 40. The Prep 40 series delivers clean, dry and cool compressed air in one integrated forklift skid package. The package includes an aftercooler, moisture separator, pre- and after-filters, and an HL series heatless dryer.
Applications for the Prep 40 include:Abrasive blasting & painting processes that require -40°F dew point, Rail yards, Ship yards, Rental Air and back up air treatment systems.
Operation: Prep 40 compressed air dryers have been designed for the rugged demands of the equipment rental industry. Heavy duty structural steel frame work protects key components. The skid is "sled style" allowing it to be easily dragged and pushed about a job site. These dryer skids are as close to plug-n-play as equipment gets. Just hook up compressed air hoses, supply 115v power, and the dryer is ready to begin working.
---