A103 Count Totalizers by Veeder-Root
Product Announcement from Veeder-Root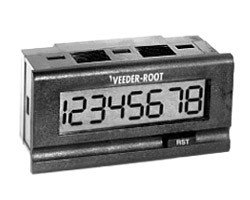 A103 totalizers by Veeder-Root provide a range of capabilities unequaled in products of similar size and cost.
Veeder-Root's A103 Series Count Totalizers include matching indicators for timing and rate/speed metering and models with a preset output for control by count or time. All are in a uniform 36 x 72 millimeters bezel size package, enhancing your control panel with devices that look and program alike.
Veeder-Root offers the broadest selection of rugged and economical electronic, electromechanical and mechanical counters. Veeder products encompass a complete line of totalizing, preset and predetermining electronic counters as well as diverse process and rate indicators. Veeder-Root, the world's best known name in counters, has provided non-stop performance and production monitoring in industrial manufacturing applications for over 100 years.
---