E50H5 BACnet MS/TP Power and Energy Meter
Product Announcement from Veris Industries, Inc.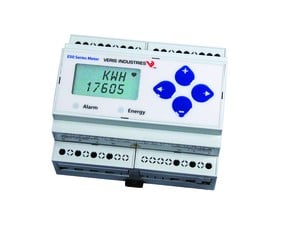 Veris Industries, a leader in innovative power monitoring and environmental sensing solutions, announces the release of its E50H5 Power & Energy Meter. The meter is an addition to the popular E50 family, and has been designed to meet the needs of the commercial building industry. In addition to the standard rich feature set of the E50 series, the E50H5 communicates natively over BACnet MS/TP at a data rate up to 115.2 kbaud, and offers two pulse inputs for sensors monitoring additional forms of energy.
"The E50H5 was designed for the building automation market," stated Gary Richmond, Veris' Energy and Industrial Product Manager. "Energy conservation is a primary focus in most sectors, and the building market is no exception. The E50H5 integrates energy use and consumption data into the BAS system through the industry's preferred BACnet protocol, making it easy to gain visibility of power use."
Native BACnet MS/TP Communication
The E50H5 easily connects to a BACnet control system with its embedded BACnet MS/TP protocol. The ability to network the E50H5 over an already established MS/TP trunk eliminates the need for additional wiring and network drops, significantly decreasing installed costs. The integrated functionality of the meter furthers cost savings by allowing multiple devices to be daisy-chained over BACnet MS/TP.
Ultimate Versatility
The energy meter fits a wide array of applications with its flexible mounting options of panel, DIN rail, or wall with optional enclosure, as well as covering 90-600 VAC and 5-32,000Amps. The E50H5 features two pulse contact accumulators for water, gas, or steam flow sensor integration, 9600 baud to 115.2 kbaud serial communication, data logging, and built-in display.
About Veris Industries
Veris Industries, located in Portland Oregon, is a market focused, customer service oriented leading supplier of energy and environmental sensors and control system peripherals for commercial HVAC, energy management, and industrial control applications.
---