SAP Project Systems
Service Detail from Vesta Partners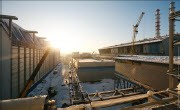 In addition to using Project Systems for cost collection, it's also a robust tool that can:
-Perform cost planning and budgeting.
-Manage all scheduling and logistical aspects of new construction and plant turnarounds.
-Work with external project management tools such as Primavera and MS Project.
Vesta has worked with dozens of clients throughout North America, and have helped these organizations use Project Systems, Investment Management and Project Portfolio Management to create world class information management systems that consistently deliver relevant, up to date and accurate information.
For more information please click here: SAP Project Systems
---