PEEK into the Future of Aircraft
Product Announcement from Victrex plc.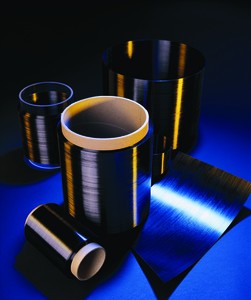 Enhanced application performance, and increased need for cost reduction and tighter environmental regulations are challenging all industry segments. The need for reliability and durability, reduced manufacturing costs, lower weight and environmentally friendly materials and processes are key drivers in composite application development.
Aircraft manufacturers today are faced with the need to design the most lightweight and environmentally fuel-efficient aircraft possible and reduce overall manufacturing costs. High performance materials selected for this harsh environment are required to perform in extreme temperatures, be exceptionally strong, chemically resistant and flame retardant.
Requirements like these are supporting the proliferation of continuous fiber reinforced thermoplastic composites in aerospace, automotive and other industries. They offer, based on their high specific strength and stiffness, alternative solutions with significant weight reduction compared to traditional metal and metal alloy parts. Complex shapes can be easily produced with thermoplastic composites. The potential to combine multiple components results in reduced cost and part count. Thermoplastic composites offer higher performance and are more environmentally-friendly to process when compared to thermoset composites.
VICTREX® PAEK Polymers for Composites
VICTREX PAEK high performance polymers are available in a variety of forms (powder, film, pellets, and filament) and are used as a matrix material in the manufacture of advanced thermoplastic composite prepregs made of carbon, glass or aramid continuous fibers.
The outstanding mechanical properties and processability of VICTREX PAEK-based composites make them an excellent substitute for metals and thermosets in a wide range of aerospace, offshore, medical and industrial applications. Find out more:
· New Thermoplastic Composite Fabrics made with VICTREX PEEK Polymer Reduces Cycle Time
· VICTREX PEEK Polymer Used in Suprem Prepreg Tape Designed for Automated High Speed Production
· Bearings made of Carbon Fibre Reinforced VICTREX® PEEK Polymer Improve Wear and Friction Performance
For more information about VICTREX PAEK polymer family download the brochure or visit us at www.victrex.com.
VICTREX PAEK for Composites Brochure
To obtain more information please contact:
Victrex Europa GmbH
Tel: + (49) 6192 96490
Email: eurosales@victrex.com
Global Sales and Technical Information:
Tel + (44) 1253 897700
To contact Victrex via email: globalspec@victrex.com
You have successfully added from to your part list.
---