Product Announcement from Victrex plc.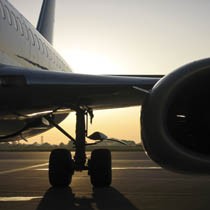 The PEEK of Lightweight Aerospace Solutions
The aerospace industry has a mandate to take weight out of aircraft in order to improve fuel efficiency. In many instances, this means identifying lightweight materials that can replace metals and other heavier componentry, resulting in processing flexibility, reduced assembly, and increased durability in harsh environments. At the same time, OEMs must feel confident that their aircraft made from lighter weight materials will have the same reliability as aircraft made from more traditional metals.
In order to improve fuel efficiency, increase performance and reduce cost, airplane manufacturers are making extensive use of injection molded thermoplastics as well as composites, films, and pipes in next generation designs including a large number of lightweight structural components made with PEEK polymer.
Why replace metal with VICTREX® PEEK?
* Up to 55% lighter than traditional metals leading to reduced overall fuel cost
* Extended product lifetime in jet fuel and hydraulic fluids provides lower maintenance costs
* Efficient processing and assembly technologies for faster production cycle times
* Greater design freedom leading to parts consolidation
* Certified and supplied to Boeing, Airbus, MIL-P-46183 specs for assured supply continuity and consistent quality
Learn more:
For more information about material solutions for the aerospace industry and the VICTREX PEEK polymer family of products, visit us at www.victrex.com.
To obtain more information from a Victrex salesperson:
Americas Sales or Technical Information:
800-VICTREX
484.342.6001
Global Sales and Technical Information:
+ (44) 1253 897700
To contact Victrex via email: globalspec@victrex.com
About Victrex
Headquartered in the UK, Victrex Polymer Solutions, a division of Victrex plc, is the world's leading manufacturer of high performance polyaryletherketones such as VICTREX® PEEK polymer, VICOTE® coatings, APTIV® film, and VICTREX Pipes™. These materials are used in a variety of markets and offer an exceptional combination of properties to help OEMs, designers and processors reach new levels of cost savings, quality, and performance. All Victrex material production comes under Victrex's ISO 9001:2008 quality registration.
For more information visit http://www.victrex.com.
VICTREX® is a registered trademark of Victrex Manufacturing Limited. VICTREX Pipes™ is a trademark of Victrex Manufacturing Limited. PEEK-ESD™, HT™, ST™ and WG™ are trademarks of Victrex plc. VICOTE® and APTIV® are registered trademarks of Victrex plc.
You have successfully added from to your part list.
---