Product Announcement from Vision Research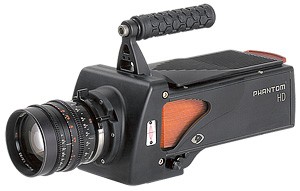 Vision Research proudly introduces the Phantom® HD GOLD, the second-generation of our acclaimed Phantom HD. There are over 100 Phantom HDs around the world, and in constant use at many of the major rental houses. Feedback from these demanding Phantom users have helped us develop the Phantom HD GOLD. This camera is not just a high-speed camera, but an instrument that gives the cinematographer 35mm depth of field either at HD or 2K resolutions with stunning results. The Phantom HD GOLD combines the visual quality of high-definition imaging with the high frame rates of specialty cameras.
Whether your imaging needs encompass broadcasts of rapidly moving sports events, the production of commercials, a music video, an award-winning documentary, monitoring a rocket launch, or possibly you are an innovative cinematographer working on a special film project that needs "a new look" to tell the story, the flexibility and virtually limitless control of the Phantom HD GOLD will provide you with unforgettable footage.
The Phantom HD GOLD allows you to select any frame rate from 1 to 1,000 fps in increments of one frame-per-second at HD resolution. Shift the frame rate a little and move the scene to a slightly future viewpoint. Or shift the frame rate a lot and move the scene to some long passing moment in time. With the Phantom HD GOLD camera's shutter, variable to 1/500,000 second, and radically adjustable framing rates, you have seamless control of the duration, speed and time of a story element.The Phantom HD GOLD can be configured for "live" broadcast or studio production and has a continuous video output that includes HD (720p, 1080p, 1080i) standards. Multiple triggering and recording modes can also be tailored to your application.
The Phantom HD GOLD is available with 8, 16 or 32 Gigabytes of inernal memory. But this is just the start of methods we provide to store your work. Take advantage of the hot-swappable non-volatile solid state recorders -- our Phantom CineMags®. These low profile modules mount snugly to the top of the camera body and store 256 or 512 Gigabytes each. When one of these storage magazines is filled, the Phantom CineStation® allows downloading of the images to a PC running the Phantom® software application.
You have successfully added from to your part list.
---