Phantom v411 Digital High Speed Camera
Product Announcement from Vision Research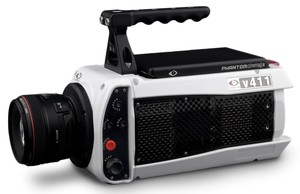 With a pixel size of 20 microns and improved quantum efficiency, the Phantom v411 digital high-speed camera has the sensitivity you need for even the most challenging lighting conditions. The camera's minimum exposure time of 1 microsecond eliminates blur and allows you to see the smallest of details.

The Phantom v411 can take over 4,000 frames-per-second (fps) at full resolution (4,200 fps, actually!). Top speeds at reduced resolution are an impressive 600,000 fps!

Like all Phantom® 1 Megapixel v-Series Cameras, the v411 comes with 8GB, 16GB or 32GB internal high-speed memory. Segmenting memory allows you to divide this into up to 63 segments so you can take multiple shots back-to-back without the need to download data from the camera.
---