Phantom v642 Broadcast Digital High Speed Camera
Product Announcement from Vision Research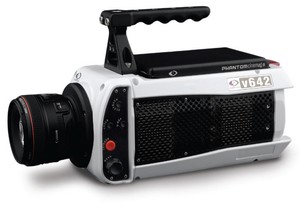 The Phantom® v642 is the third generation broadcast camera. It retains the unique ability to both record and playback ultra-slow motion footage simultaneously, while adding the capability to accurately color match regular speed broadcast cameras.The internal high-speed dynamic RAM can be segmented into different partitions. You can record Ultra high-speed events recorded into one memory segment while simultaneously playback a previously recorded event directly from the camera.
The v642 is supported by a 4 megapixel 2K sensor that can record full-resolution frame rates of 1450 frames-per-second and be leveraged to support pan and zoom applications. Typical broadcast resolutions are supported, in addition to 1080p at 2560 frames-per second.
Our Emmy® Award winning Ultra high-speed cameras have been leveraged by integration partners globally to support Soccer, Tennis, Football, NASCAR, Baseball & Formula 1 Grand-Prix. Some key events covered are Football World Cup, ATP grand slams (Roland-Garros 2011), 2010 Olympics, baseball's World Series, and 2010 FIFA World Cup.
---