Installing a Valve Core with Perfection
Product Announcement from Visumatic Industrial Products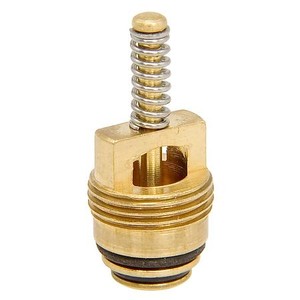 An automotive tubing supplier partnered with Visumatic to develop an automated assembly machine to feed, lubricate, and install a valve core into a variety of vehicle charge port/tubing assemblies. Reaching a consistent target torque was historically difficult because the operator provided the tightening reaction force and sealing material made the joint dynamic. Physical reject control was also a concern because of the possibility of a bad part making its way back into the assembly stream.
Visumatic designed and built a simple solution to address these challenges. The process begins when the operator inserts the preassembled tubing/charge port into the fixture. Sensors initiate the assembly cycle as the fixture clamps the part in position. The Visumatic Power Module advances the valve core, the machine applies an aerosolized lubricant, and then installs it.
The force transfer to the operator was wiped out by the clamp mechanism, providing a stable environment for joint control. Tooling costs were kept low by identifying common locating features among the part styles resulting in a single fixture and no time consuming changeovers.
Passed part percentages were also increased through the incorporation of a DC electric driver motor with a programmed tightening sequence incorporating both target torque and angle. Rejected assemblies were controlled by retaining a failed part in the clamped fixture. Release of a bad part was only possible via a supervisor password lock-out accessed through the HMI.
Stop by our plant or visit our web site to see more Visumatic assembly solutions in action.
You have successfully added from to your part list.
---