Product Announcement from Visumatic Industrial Products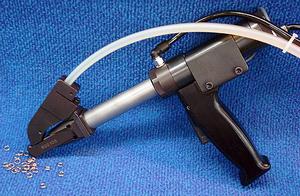 VISUMATIC EXCLUSIVE!
Visumatic's newest innovation is Automated Ring Application Systems, unavailable anywhere else on the market. Using the combined principle of Visumatic's VIN Pin Insertion System and Locking Bit, the VIN-R Ring Application System is designed to automatically feed individual rings like brazing rings, soldering rings and coils onto tubing or customer specified part, completely eliminating arduous and labor intensive hand placement.
This evolution of our exclusive Pin Insertion System allows the operator sensory feedback in order to feel the part and ring connection prior to actuation for maximum assembly efficiency and accuracy.
VIN-R Ring Application Systems assembly nosepieces are custom designed and built to automatically feed and place:
• Brazing Rings, Solder Rings, Coils, Washers, Snap Rings, External Spiral Retaining Rings
• Comes complete with a microprocessor controlled feeder
• One Moving Mechanism for Zero Adjustments
• Can be configured Hand Held, Fixtured or Machine Builder Systems
The Visumatic Advant-edge
• Comes complete with a microprocessor controlled feeder, configured to fit your ring and application
• Provides complete cycle flexibility
• Enclosed for cleanliness and sound reduction
• Feed harness length up to 20' allows operators to follow the work along the assembly line
• One Moving Mechanism - Zero Adjustments
Visumatic Ring Application Systems are designed specifically for your ring and part, with the best choice of:
• Nosepiece: Jaw, Finder
• Feeder Escapement: Standard, N99
You have successfully added from to your part list.
---