Product Announcement from Visumatic Industrial Products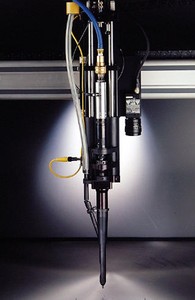 Assembly automation technology reaches the apex with Visumatic's Vision Guided Screwdriving, including our X-Y Robots. Visumatic's philosophy is to deliver the newest technologies to meet emerging customer needs. Visumatic's Robots are essential when there is an inability to fixture, touch or move a part during the assembly process. These robots allow full automation of the fastening application.
A Vision Guided Power Driver works when identification of the presence and location of parts is necessary. The Vision Guidance System locates the points to register the part and automatically feeds and drives the customer required number of screws within a set cycle time. The geometry of the part, proximity of screws, clearance, depth and torque requirements all are simultaneously handled by our robot systems, monitoring and accessing all of your driving locations. After the screw is fed into the nosepiece, the entire jaw nosepiece assembly can be extended to the driving position to mechanically hold the screw at the lowest point over the hole prior to driving. This is the very highest assurance for a quality, no-mar cycle.
Each robot application is designed to fit your parts, and comes with your choice of pneumatic, AC or DC electric driver components. Your system will be exhaustively tested and conformed for accuracy by our experienced team of assembly engineers, and will arrive ready to run.
Visumatic automated feeding and driving systems are backed by the strongest guarantee in the business and Visumatic provides an outstanding technical service team that can be on-site within 24 hours. Our customer specific, highly detailed technical manuals are developed so our service staff can be literally "on the same page" with you with just a phone call.
Vision Guided. Extremely Accurate. Long Wearing.
You have successfully added from to your part list.
---