Product Announcement from Visumatic Industrial Products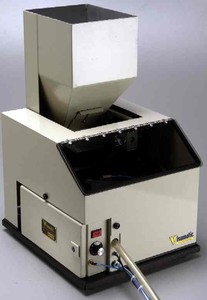 As part of your Visumatic automatic feeding and driving system, Visumatic Screwfeeders (or nut feeders) feed your part to the Visumatic Locking Bit before the driving process. Our Screwfeeder qualifies each drive cycle and counts the screws driven per cycle to be sure the proper number of screws are driven. Each feeder comes with several standard features, including a Visumatic designed microprocessor that controls: the feed cycle rate, blow time and automatic bowl shut off, trouble-shooting LED's and an empty bowl alarm; and has significant built-in surge protection. A steel enclosure protects it from destructive dirt & debris.
Visumatic screw feeder systems are available with standard, poly-coated cast aluminum or can be made with a stainless steel vibratory bowl. Other vendor supplied vibratory bowls needed to meet your specification are no problem. By incorporating our escapement and controls, and extensively testing the configuration, we make sure the end result is a high performance, long lasting Visumatic feeder.
The primary function of a bulk supply hopper is to automatically maintain the proper level of fasteners in the vibratory feeder bowl. A sensor in the bowl signals the hopper to dispense fasteners when the low level limit is reached to keep the bowl at the optimum fastener level. This leads to a longer bowl life and more efficient feed system. Hoppers are sized to handle a gross box of fasteners (30-40 lbs), so operators add screws 80% to 90% less often. Hoppers also help keep work areas safer.
Visumatic designs each application to fit your part, and are available with your choice of pneumatic, AC or DC electric driver. Each Visumatic assembly is exhaustively tested by our experienced team of assembly engineers, and is ready to run when it arrives on your floor.
Visumatic systems are backed by the strongest guarantee in the business. Visumatic provides an outstanding technical service team that can be on-site within 24 hours. Our customer specific, highly detailed technical manuals are developed so our service staff can be literally "on the same page" with you with just a phone call.
Large Capacity. High Performance. Long Lasting.
You have successfully added from to your part list.
---