Constant Force springs, stock
Product Announcement from Vulcan Spring & Mfg. Co.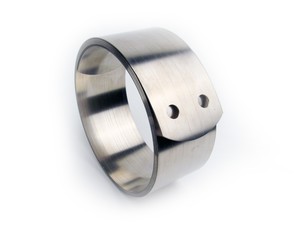 Conforce springs offer high force output with very small space requirements, provide long linear reach with minimal force buildup, and store power indefinitely when extended. They are ideal for a wide variety of applications where constant force is needed, including applications requiring smooth returning and retrieving, counterbalancing applications, and tensioning and loading applications.
Because there are a number of different spring design possibilities for a given application it is suggested that you consult with a Vulcan engineer early in the design phase.
After you work through the product specifier below, submit your information and the specifier will create a specification sheet for submission to Vulcan.
The following parameters affect the constant force spring design:
Material - Typically Type 301 stainless steel, but high-carbon steel and other materials are available.
Life - An estimate which is too low leads to early failure, an estimate which is too high makes the spring larger and more expensive than necessary.
Force - should equal the requirement of the application, normal tolerance is +/- 10%.
Available Space - for proper operation, constant force springs require .8 x I.D. (see drawing).
Length - allow at least 1 and 1/2 turns to remain when spring is fully extended.
Environment - corrosive atmospheres and/or extreme temperatures will affect spring life and material selection.
End Detail - select END DETAIL to view a selection of VULCAN's many standard end detail designs. Custom designs are available.
Mounting Methods - select MOUNTING METHODS to view a selection of single and multiple mounting recommendations.
---