Motor Brush / Twin Springs
Product Announcement from Vulcan Spring & Mfg. Co.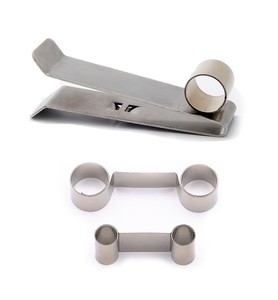 Enhancing Motor Performance

Motor brush springs are Conforce springs that are specially constructed to provide the ideal method of ensuring consistent, dependable lubrication to electric motor commutators.

Because there are a number of different spring design possibilities for a given application it is suggested that you consult with a Vulcan engineer early in the design phase. The tables in this section are only a guide; they do not list stock springs.
The following parameters affect the spring design:
Material - Typically Type 301 stainless steel, but other materials are required if current is to be carried through the spring.
Force - The force of the spring should be equal to the spring force required to obtain the desired brush pressure. Normal tolerance is +/- 10%.
Available Space - for any given force there are several combinations of spring thickness and width. Select the one that best fits the available space.
Mounting Methods - select MOUNTING METHODS to view a selection of mounting recommendations.
Length - include two full turns extra when the spring is fully extended, based on the length of the brush when new.
Configuration -
Straight extension spring/a single spring
Laminated Springs/multiple interwound springs
Twin coil springs/doubles the load of a single spring
Clearance - start with ten times the thickness of the spring.
---