Product Announcement from WAGO Corp.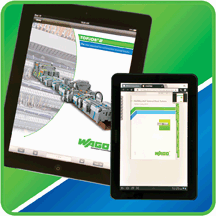 WAGO Corporation's online eBooks are now compatible with E-Book Systems' free iFlipViewer Application for iPad® and Android™ Tablets. Patterned after the fieldbus-independent WAGO-I/O-SYSTEM, the platform-independent iFlipViewer supports WAGO's smart device-compatible eBook brochures. iPad users may download the application at the iTunes® Store. Android Tablet users can simply view WAGO eBooks on its Literature Request Web Page - no download needed.
iPad®:
Upon downloading the iFlipViewer Tablet Application, an icon will appear on the iPad home screen. WAGO documentation is then saved to the iPad's library for instant access - even when Wi-Fi is unavailable. iPad's navigational swipe and gesture features (pinch/double-tap zoom) are fully supported. Download: http://www.wago.us/ipad.htm
Android™:
WAGO's eBooks are compatible with virtually all Android-powered tablets and smartphones. The tablet mimics the familiar PC-style GUI and includes in-screen zoom, save, print and e-mail functions. Access: http://www.wago.us/android.htm
iFlipView-compatible offerings supplement WAGO's print catalogs/brochures and PDF brochures, which are available at www.wago.us. Initial offerings: U.S.-market Solar, 2060 Series, EPSITRON®, ETHERNET 2.0 and ProServe® brochures; additional content will follow soon. WAGO will continue providing print brochures/catalogs, as well as online PDF variants.
WAGO is the leader in spring pressure connection technology that eliminates loose wires resulting from vibration and temperature cycling, while providing highly reliable, corrosion-resistant and maintenance-free connections. Products: DIN-rail, PCB and chassis mount terminal blocks; signal conditioners; the WAGO-I/O-SYSTEM and more.
For additional information, visit www.wago.us. Contact WAGO at 1-800-DIN-RAIL or info.us@wago.com.
###
You have successfully added from to your part list.
---