Greener Disinfection Solution: Amalgam UV Lamps
Product Announcement from WEDECO, a Xylem brand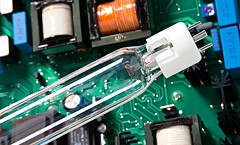 Introducing the new WEDECO ECORAY® ultraviolet (UV) lamps and associated electronic ballast cards. This next generation of high-intensity low-pressure (HiLO) UV technology offers significant savings in operation and life cycle costs to customers. The ECORAY product line is a "plug and play" replacement standard to numerous existing WEDECO UV installations and becomes original equipment (OE) in certain WEDECO UV systems.
ECORAY UV lamps incorporate a new long-life coating and an improved overall stability and performance. An innovative gas and amalgam mixture utilizes up to 80 percent less mercury compared to former UV lamp types. The corresponding electronic ballast cards have been fine-tuned to the specific requirements of ECORAY's lamp aging characteristics and typical operation modes: UV lamps are operated in dimmed mode for the greater part of their entire service life, which means a power consumption of far less than 100 percent input power.
The optimization in terms of power consumption in accordance with typical modes of operation results in a greater operational efficiency with significant power savings and better temperature stability. Long-term product field tests also indicate improved reliability and longer product life, which leads to fewer replacement and maintenance costs for customers.
The improved operating properties of the new product line also offer new approaches to improve UV system control philosophies especially for older systems. This permits further significant power and cost savings. Overall, customers can save up to 20 percent of the total operational costs of a UV system when applying ECORAY components together with an improved system control. These inspection audits are performed as part of our TotalCare service offering.
---