Product Announcement from WEH Technologies Inc.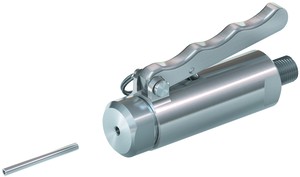 Filling and leak testing of closed cooling circuits
The WEH® quick connector type TW141 provides pressure-tight connection to straight tubes, thus being ideal for pressure, function and leak testing and filling of closed cooling circuits with refrigerants. Especially for automated testing, e. g. on production of tubes or heat exchangers, type TW141 is an indispensable device.
Features:
• Squeeze lever for ease of operation
• No tapes, sealants or hand tightening required
• Sealing exterior tube diameter
• Extended version available for difficult-to-access tubes
Specifications:
• Rated from vacuum to 1,450 psi
• For exterior tube diameters from 3.5 to 22 mm
• Aluminium housing
Applications:
• Filling of closed cooling circuits (e.g. heat exchangers)
• Vacuum and pressure testing
• Leak testing
You have successfully added from to your part list.

Play WEH® TW141 connects instantly to straight tubes Video
---