WIKA CPG 1000 Data Logging Software
Product Announcement from WIKA Instrument, LP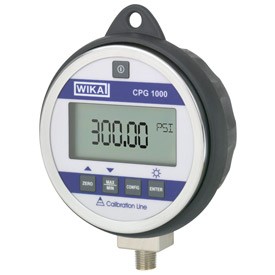 WIKA Instrument Corporation announces the CPG Log, data logging software for the CPG 1000 digital test gauge. This data logger interacts with all CPG 1000 pressure gauges. It is a cost-effective software piece that meets all your data logging requirements.
The WIKA CPG Log allows for a wide array of configuration settings:
Multiple interval selection options from 1 second to 1 hour
Data logging runs can be set from a few seconds to several weeks
Data capture allows for points to be logged continuously, at preset rising values, at preset falling values or it can be set to capture only noise or transients in the pressure signal
Records up to 9520 data points
Types of data

Interval end
Average
Minimum
Maximum
Median
Average/Min/Max
WIKA's CPG Log software adds to the strong functionality of the CPG 1000 digital test gauge with these standard features:
Accuracy of 0.05% full scale standard
Temperature compensated 32° to 122°F
Pressure ranges from 30" H20 to 10,000 psi
Displays in 18 standard units with one unit user programmable
Displays ambient sensor temperature
Large, back lit 5 ½" display
Rugged stainless steel construction NEMA 4X/IP65
Min/Max
User configurable sample rate
CSA intrinsically safe Class 1, Div 2 Groups A,B,C & D
Supplied with a rubber boot
Click here for additional information about the CPG 1000.
For over 60 years, WIKA Instrument Corporation (WIKA) has continued to globally advance pressure gauge, sensor and temperature instrumentation technology and applications. In the United States, WIKA's operation utilizes state-of-the-art manufacturing technology and highly automated proprietary production equipment in its nearly quarter-million-square-foot facility in the metro Atlanta suburb of Lawrenceville, Georgia.
As the industry leader in lean manufacturing, WIKA offers a wide variety of stock and customized instrumentation solutions for critical applications that often are distributed within days. The WIKA customer service department recently earned the Operational Excellence Award for Leadership from one of North America's leading distributors of industrial maintenance, repair and operation replacement parts.
Producing over 40 million gauges, diaphragm seals, transmitters, and thermometers worldwide annually, WIKA has the most extensive product line in the industry.
Contact WIKA for more product details or request a quote today.
---