WIKA MH-2 Mobile Hydraulic Pressure Transmitter
Product Announcement from WIKA Instrument, LP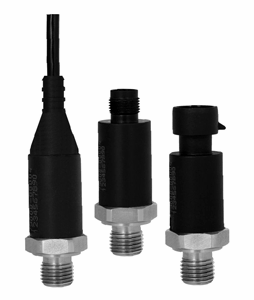 The WIKA TRONIC Type MH-2 measures pressure ranges from 400 PSI up to 8000 PSI are available to meet all standard mobile hydraulic applications. The Type MH-2 offers shock and vibration resistance in accordance with IEC 68-2 and ingress protection IP 67 to IP 69K (steam jet protection).
Additional features include a hermetically welded thin film measuring cell to ensure long-term leak tightness and eliminate the need for additional sealing elements. Made of high-quality stainless steel using sputtering technology, the measuring cell provides long-term stability under dynamic load changes. Due to excellent EMI properties in accordance with EN 61326, the MH-2 offers high reliability even under critical EMI conditions (up to 100 V/m). Even extreme temperature changes do not affect the reliability of this transmitter.
The Type MH-2 is particularly suitable for the rough operating environment of mobile hydraulic, mechanical engineering and automotive applications. WIKA also offers customized configurations to meet specific application needs.
Since 1946, WIKA Instrument Corporation has been advancing the world of pressure and temperature instrumentation. For more information, visit www.wika.com/tronic or email us or request a quote today.
For over 60 years, WIKA Instrument Corporation has continued to advance pressure and temperature instrumentation on a global basis. In the U.S., WIKA's operation utilizes state-of-the-art manufacturing technology and highly automated production equipment. As the industry leader for lean manufacturing, WIKA offers a made-to-stock and made-to-order process that can distribute most products within three days or less. By combining world-class LeanSigma® operations, agile manufacturing and resident engineering, WIKA can deliver the best instrumentation solutions including products for critical applications.
---