WIKA PSD-30 Transmitter with Integral LED Display
Product Announcement from WIKA Instrument, LP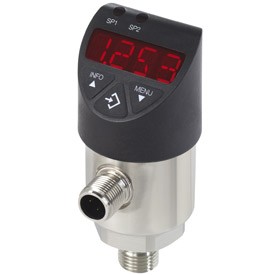 WIKA Instrument Corporation (WIKA) introduces its TRONIC PSD-30 pressure transmitter with integral LED display has been awarded the globally recognized UL certification. The UL quality approval for the new transmitter makes it easier for customers to achieve regional and specific customer approvals. WIKA offers the highly functional, yet simple-to-use, PSD-30 in several country-specific versions. Underwriters Laboratories (UL) tested the PSD-30 pressure transmitter to applicable U.S. standards, including overpressure resistance and ingress protection in installation conditions. UL is a worldwide leader in product safety certification.
The PSD-30 is designed so that its digital display, with large 9 mm digits, can be positioned at an angle so the displayed pressure can be easily read from a distance. Due to its dual rotating ability, the housing rotates more than 300° and can be adjusted independently of the electrical connection. Therefore, the display can always be aligned towards the operator while the M12 connection can be aligned to suit the desired cable run. With its user-friendly 3-key operation and easy menu navigation (according VDMA Standards), the PSD-30 can be used for machine building; machine tools; hydraulics and pneumatics; and pumps and compressors.
Click here for a WIKA News about the CPG 1000.
Contact WIKA for more product details or request a quote today.
About WIKA Instrument Corporation. For over 60 years, WIKA Instrument Corporation (WIKA) has continued to globally advance pressure gauge, sensor and temperature instrumentation technology and applications. In the United States, WIKA's operation utilizes state-of-the-art manufacturing technology and highly automated proprietary production equipment in its nearly quarter-million-square-foot facility in the metro Atlanta suburb of Lawrenceville, Georgia.
As the industry leader in lean manufacturing, WIKA offers a wide variety of stock and customized instrumentation solutions for critical applications that often are distributed within days. The WIKA customer service department recently earned the Operational Excellence Award for Leadership from one of North America's leading distributors of industrial maintenance, repair and operation replacement parts. Producing over 40 million gauges, diaphragm seals, transmitters, and thermometers worldwide annually, WIKA has the most extensive product line in the industry.
---