Product Announcement from WPT Power Corporation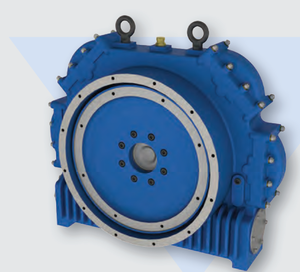 The WPT Power Pump Drives (PPD) will better equip WPT to meet a more extensive range of engine driven application needs and extend our ability to work on broader application requirements.
The Power Pump Drives are available for indirect or auxiliary drives, which make them suitable for off highway and mobile equipment.
"Our new PPDs are versatile, with several types of pump pads and accessories keeping the options greater for our customers," said Lane Brock, President of WPT Power Corporation.
"The Power Pump Drives are available in four sizes, which will enable them to handle the rigorous duty cycles of large mobile equipment throughout many industries.
The introduction of this new product line of Power Pump Drives is consistent with our growth plans for the development of new products that further compliment our already extensive line of power transmission, clutch and brake products."
The Power Pump Drive mounts between the engine and the rugged WPT Power Take-Offs and provides for multiple live or clutched pumps. The pump drive is self-contained and does not require external lubrication or pumps. Internal heat exchangers can be added where required and a variety of options, including PTO clutches, are available.
The WPT Power Pump Drives are available in four different sizes with maximum torque capacities from 413 lb-ft [560 Nm) through 4650 lb-ft [6300 Nm] and operating speeds from 2,100 rpm to 3,000 rpm. All units mount to standard SAE housings and provide up to 8 pump mounting faces.
All Power Pump Drives are provided with flexible couplings on the input side for torsional dampening.
As an international manufacturer of pneumatic and hydraulic power take-off's, clutches and brakes for a broad range of industrial and petroleum applications, WPT® Power Corporation has been a leader in the power transmission industry, providing superior products with the highest of quality since 1992.
Tough Running
WPT®'s competitive pricing and outstanding lead-times from our Wichita Falls, Texas facilities help make WPT® the OEM supplier of choice for major manufacturers worldwide.
Rugged Design
Our professional engineering department specializes in designing units that will meet and exceed your unique needs. If you require a special design or application, please contact WPT®'s engineering department for successful solutions.
Agriculture:Irrigation Pumps, Sugar Mills

Dynamometer:Holding & Tensioning, Retarding Brakes

Energy:Anchoring & Mooring Winches, Drawworks, Mobile Drilling & Service Rigs, Pumps, Pump Jacks, Power Take-Off (PTO)

Forestry:Chippers, Log Stackers, Power Take-Off, Processing Mills, Tub Grinders, Yarders

Marine:Anchor Winches, Deck Machinery, Dredging, Pipe Laying, Power Take-Off, Propulsion, Pumps, Shaft Brakes, Thrusters, Windlass

Metal Forming:Headers, Presses, Processing Lines, Roll Forming, Shears, Slitters, Uncoilers

Mining:Auxiliary Engines, Crushers, Hammer Mills, Kilns, Pulverizers, Power Take-Off Conveyers, Shovel & Dragline Conversions

Off-Highway: Asphalt Planers, Auxiliary Drives, Profilers, Power Take-Off, Pumps
Paper / Converting: Calendar, Conveyers, Debarkers, Dryers, Presses, Reel, Slitters, Unwind/Rewind Stands
Products:
Low Inertia Clutches and Brakes
WPT High Torque clutches and Spring Set brakes range from 4" through 60" diameter. Designed for metal forming and stamping equipment and general power transmission applications. From 2,340(lb.in.) 260(Nm) through 11,430,000(lb.in.) 1,301,800(Nm) static torque.
Mechanical Power Take-Off Clutches
WPT's mechanical power take-off clutches are suitable for inline and sideload applications on all internal combustion engines with standard SAE flywheel housing dimensions. All PTOs and parts are 100% interchangeable with existing PTOs. All units are supplied with sealed ball pilot bearings to eliminate lubriction problems normally encountered. Ball bearing throwout collars are optional on 14" units and standard on 311 units.
Pneumatic and Hydraulic Power Take-Off Clutches
Type 1 PTOs
Type 1 PTOs are best suited for engine drives on rock crushers, dredge pumps, oilfield mud pumps, waste shredders and other horsepower applications.
Type 2 PTOs
Type 2 PTOs are best suited for medium to high loads. Typical applications include engine driven pumps for irrigation, fire control, high pressure spray as well as road planers, wood chippers and utility construction equipment
Power Grip High Speed Clutches
Power Grip High Speed Clutches are designed to withstand severe applications mounted to internal combustion engines.
Power Grip and Power Grip PO Clutches
The Power Grip Clutch is designed to accommodate in-line mounting for heavy duty power transmission. Used in conjunction with either a quick change or standard driving adapter, the Power Grip Clutch is useful as a coupling clutch for shaft to shaft applications.
Water Cooled Brakes (WCB) are designed for constant slip and severe high heat braking applications. The brakes are air actuated and cooled with a continuous flow of coolant from either a closed or open loop cooling system.

Available with two actuation methods, either airtube or piston. The airtube is corrosion resistant and no special coatings or treatments are required. Field service is simple and error free.

Retrofit kits are available to convert an existing single or dual piston actuated WCB to airtube actuation with no other modifications require
WPT Power's new Caliper Disc Brake products are specificatlly designed to meet a wider range of global applications.
WPT Power Winches have working capacities from 9,000LBS (4,082kg) to 130,000LBS (58,967kg).They are suited for oil drilling, wreckers towing and recovery.
Versatile pump drive that has a power take-off mounted behind it to allow for live multiple pump drives. Many unique accessories are available to complete the final assembly
You have successfully added from to your part list.
---