Custom Fabrication-Machining of Thermoset Plastics
Service Detail from WS Hampshire, Inc.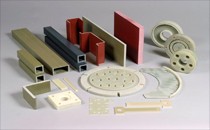 WS Hampshire is your first choice when you demand the best in rigid fabrication of thermosets, thermoplastics, fiberglass composite or thermal insulation boards.
At WS Hampshire we take pride in our outstanding CNC automation and in-house fixturing and tooling. We continue to advance our capabilities in hi-speed, precision machining with the addition of our newest Haas vertical mills and lathes added in 2011. Our machines range from Schelling, Fidels, Mazak, Haas and LeBlond. We can form, bend, rout, mill, saw or lathe your thermoplastics, thermoset phenolics, fiberglass composites and thermal insulation boards within a tolerance of 0.001".
Our wide variety of machining processes and assembly, finishing and packaging services meet industry standards and allow us to produce high quality, custom fabricated parts made from a wide range of non-metallic, industrial materials. Our CNC machining and lathe turning capabilities allow us to make parts from ½" to 50" diameters and plates up to 8" thick for nearly any industrial application.
We have assembled an extensive product selection which reinforces WS Hampshire's commitment to supplying the most complete industrial, thermoset & thermoplastic bearing, bushings and wear-part line in the country. All WS Hampshire bearings are custom-made and engineered to order. We can assist in material selection for your application or work with your material specification and part drawing.
WS Hampshire is the original source of Ryertex phenolics used for bearings, bushings and wear parts and the industry standard for over 75 years.
No matter your industry, from agriculture to mining to construction, WS Hampshire can provide the products and services to meet your every need.
To learn more about WS Hampshire's rigid fabrication & machining services please contact us
---