Thermoforming & Vacuum Forming Services
Service Detail from WS Hampshire, Inc.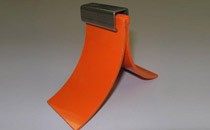 WS Hampshire has been vacuum forming and thermomolding plastic for over a half century. We specialize in single sheet, heavy gauge, single part production of large parts from in-house maintained molds and fixtures. We supply parts for a variety of applications using a wide range of thermoplastic materials to include ABS, HDPE Acrylic, HIPS and many more.
From trays to belt and chain guards to power distribution line insulators, we are experts in forming your products to the highest industry standards by using lean manufacturing techniques in a make-to-order production environment.
WS Hampshire is able to provide our customers efficient production and prompt delivery. We also offer great additional services like mold and fixture design, custom assembly, silk screening, part assembly and custom packaging.
To learn more about WS Hampshire's outstanding thermoforming and vacuum forming services please contact us or see below for details.
Operations Thermoforming
Vacuum Forming
Material Thickness
0.062 to 0.375 in
Maximum Sheet Length
100"
Maximum Sheet Width
60"
Tolerance (+/-) +/- 0.250" in
Molding Process Deep Draw capable
Vacuum Forming
Thermo Molding
Equipment Capabilities
Manual - YES
Materials
ABS
Acrylic
H.I.P.S.
Lexan
PET
Polyethylene
Polypropylene
PVC
Styrene
Additional Services
Mold Design
Mold Fixture Making
Assembly
Deburring
Drilling
Riveting
Silk Screening
Edge Polishing
Hardware Insertion
Painting
Typical Products
Barrels
Belt/Chain Guards
Custom made to part drawing & spec
Power distribution line insulators
Safety equipment
Heavy Equipment Components
Production Volume
One mininum
Specialty Production Shop
Prototype
Low Volume
Small Run
Lead Times Available
3 - 4 weeks on repeat production parts
6 - 8 weeks on new parts
Quoted on job by job basis
Industry Focus
Agricultural
Safety Products
Marine
Industry Standards
ASTM: American Society for Testing and Materials
CE: The CE mark (officially CE marking) is a mandatory conformity mark on many products placed on the single market in the European Economic Area (EEA).
CSA: Canadian Standards Association
Mil-Spec: Military Specifications
RoHS: Restriction Of Hazardous Substances (Compliant)
REACH Compliant
UL
Efficiency
Lean Manufacturing
Job shop mae to order processing
File Formats Accepted
AutoCAD: (DWG,DWZ) (#4 Preferred Format)
DXF: Drawing Interchange Format, or Drawing Exchange Format (#3 Preferred Format)
GIF: Graphics Interchange Format
IGES: Initial Graphics Exchange Specification, ANSI file format. (#2 Preferred Format)
JPG or JEPG: Joint Photographic Experts Group
PDF: Portable Document Format
SolidWorks: (SLDPRT, PRT) - (#1 Preferred Format)
TIFF: Tagged Image File Format
Machine Manufacturers
Monarch Comet
Custom Built to Customer Part Requirements
---