High perfomance chemical feed metering pump
Product Announcement from Iwaki America and Walchem, IWAKI America Inc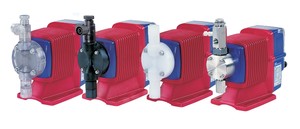 The EW Series is the flagship of the E-Class with capacities up to 6.7 GPH (25.4 l/h) and a maximum pressure of 250 PSI (17 bar). Compact, powerful and packed with a variety of innovative design features the EW can enhance any feed application.
IP65 Construction
The rugged Polyphenylene Oxide (PPO) enclosure is equipped with a durable clear cover to protect the membrane switches and stroke control of the pump, which are mounted opposite the liquid end. The display utilizes a high temperature LCD that provides extra protection from sunlight in outdoor applications.
Control Features:
· Feed Accuracy -Powered by the E-Class 360 Stroke-Per-Minute technology the EW has an incredible adjustment range of 1800:1 ensuring precise feed control for any application.
· Analog Input Control - Fixed or scalable 4-20MA input control.
· Pulse Input Control - Pulse input with multiply and divide features (1-9999). 12VDC output power supply for Hall Effect water meters.
· Stop Input Control - A stop input contact will stop pump operation and close the stop output relay contact for external control, alarm or remote notification. A red LED locally indicates a stopped condition.
· Pre-Stop Input - A pre-stop input contact will illuminate an orange LED, locally providing warning while pump continues to operate.
· Feed Verification - The EW is equipped with 3-preprogrammed modes for accepting our Posiflow Feed Verification Sensor. The Posiflow provides a pulse feedback to the pump to verify prime and proper feed. Depending on the mode, the user can program to pump to stop, continue operating and/or send an alarm based on the Posiflow input.
· Outputs - A stop condition and synchronous pulse outputs are standard outputs, however the output relays can be programmed to signal any pump condition.
Easy Draw-Down Calibration - In the calibration mode the user only needs to start and stop the pump, enter the draw-down volume and the pump calibrates volume-per-stroke.
Changing conditions needn't mean a drop in chemical dosing accuracy, thanks to EWN-Y series metering pumps with the NEW rapid response EFS sensor option. EFS technology continuously relays the true flow rate to the EWN-Y's digital controller. The result is "set it and forget it" reliability, plus extra performance benefits:
• Simple setpoint control, with a clear display of actual dosing flow rate
• No time-consuming calibration required
• 360 strokes-per-minute pump output for high resolution chemical feed with greater adjustment accuracy
• 4-20 mA control output proportional to actual pump flow rate
• Optional Auto-air Vent Valve eliminates gas-lock problems with continuous venting.
When outgassing, back pressure or viscosity variations threaten, Iwaki technology makes sure your water treatment system is instantly ready to go with the flow.
---