Product Announcement from Walker Engineered Products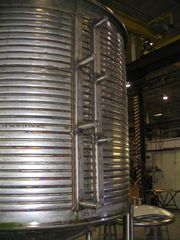 Walker Engineered Products is a leader in processor equipment, technology and options. Customers realize the benefits of Walker process vessels with:
the design and fabrication to 3-A Sanitary Standards
the saving of process steps
the ease of integrating a Walker vessel into a process line
the flexibility of materials, vessel configurations and capacities from 10 to 10,000 gallons

Heat Transfer Technologies
Walker offers various technologies for heat transfer including channel on side wall, dimples on bottom cone and half pipe for high temperature applications in the chemical industry.

Processor Configurations
Available configurations of processors include cone bottom, dish top/bottom, slope bottom, open top or flat top w/ hinged covers and more.

Flexibility of Materials
Our engineers can specify the right stainless steel or other metal options for your applications: 304 stainless; 316; AL6XN more resistant to chlorine attack; alloy 20 for chemical process applications; Hastalloy for pharmaceutical and personal care products.

3-A Sanitary Standards
3-A Sanitary Standards are the gold standard for processor vessels. Walker is committed to designing and manufacturing to these benchmark sanitary standards that certify hygienic equipment design for dairy and food processing equipment. Walker Engineered Products is the only stainless steel vessel fabricator that has the 3-A authorization symbol for five categories: silos, uninsulated tanks, storage tanks, batch processors, and batch pasteurizers.
Batch Processors
Walker can build processor vessels up to 10,000 gallon capacity and larger on request.
Multi-purpose process tank with applications in the dairy, beverage and food processing

Multi-purpose unit designed to handle more viscous products such as yogurt and lotions

Multi-purpose cooker kettle designed for high speed mixing, blending, heating and cooling of a wide range of products including viscous materials.

Multi-purpose rapid mixing tank for dairy, beverage, food and chemical processing.

Bulk starter production; sealed to minimize chances for contamination.

Agitators such as scraper, sweep, squirrel cage, hydrofoil and turbine are matched to the process for optimum performance.

Walker has the best processor with excellent agitation, monitoring and temperature control for consistent whey drying. A variety of Optional Equipment for Processors to meet with application and location specific requirements.
You have successfully added from to your part list.
---