Product Announcement from Walker Engineered Products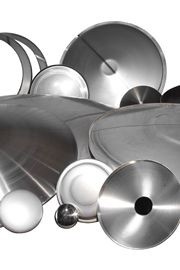 Walker Engineered Products is a prominent manufacturer of hydroformed tank heads.

We utilize various metals to fabricate both standard and custom tank heads and other formed metal used in manufacturing in a wide range of sizes, gauges, types and shapes to meet exacting customer tolerances. Walker tank heads are formed stress-free, then machined, beveled and polished so they are ready to be moved directly into a customer fabrication facility. Walker has regulatory agency approvals from ASME, CRN, and PED.
Types of Tank Heads:
Stainless Steel, Aluminum, Carbon and Alloy Heads
Hydroformed Heads
Spun Heads
Heat Transfer Heads
Custom Heads
ASME Cerfieid
Pressed Heads
Flat Flanged Heads
Conical Heads
Ellipitical Heads

Tank heads are formed metal shapes of various sizes and thicknesses that are used in a variety of manufacturing industries for additional processing into everything from silo tank heads to ornamental designs. Walker Engineered Products makes one of the highest quality tank heads on the market because we are the experts at hydroforming, also referred to as pneumatic pressure forming. Pressurized air forces a defined geometric shape into a piece of metal evenly and uniformly across the head so that there are no residual stress points.
Capabilities & Benefits
After hydroforming, the Walker tank heads are machined, beveled and polished for a finished profile. Since there are no residual stress points, the heads can then be routed directly into the fabrication facility for further processing. Customers save on the extra machining costs and benefit by keeping lower inventory on hand. The Walker hydroforming process keeps tooling costs down, easily accommodates different shapes and is flexible for fast turnaround.
Materials
Walker Engineered Products produces tank heads from stainless steel, carbon and alloy steel, and aluminum. If you require another metal please contact us to discuss specific needs.
Sizes and Thickness
Walker has a series of dies to form a standard range of head dimensions and profilesWe can work with any number of diameter sizes - from 9" up to 180" - and metal thicknesses - 18 gauge to ½" plate -, depending on the head shape. Please contact us to discuss custom configurations.
Regulatory agency approvals
Walker has agency approvals to fabricate tank heads from ASME (American Society of Mechanical Engineers), CRN ( Canadian Registration Number) and PED (Pressure Equipment Directive of the European Commission) so our customers can be sure the Walker tank heads are in full compliance with all regulatory requirements.

Let Walker help you with standard and custom conical, elliptical, flanged & dished tank heads. Contact us today for a quote!
Products by Industries
Walker Engineered Products provide a broad range of products for mixing and blending, including process vessels, aseptic tanks, vertical and horizontal storage tanks and silos. With the benefit of our experience and application knowledge we also provide a wide range of agitation technologies that includes sweep, scraped surface, counter rotating and high shear mixing. In addition, we provide dimple, channel, and half pipe heat transfer solutions to meet the ever changing needs of our customers' markets. Walker Engineered Products has brought to the market innovations like the USDA-accepted horizontal CIP agitator. We build to 3A Sanitary Standards' and in accordance to USDA regulations. We fabricate all pharmaceutical tanks and vessels to the principles of ASME-BPE.

You have successfully added from to your part list.
---